Volunteer with New Hanover County Parks & Gardens and become a Parks Star!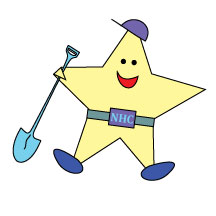 We are recruiting Parks Stars to help keep our parks beautiful, to help with special events and for special projects!  If you are interested in volunteering with us, fill out the form below or contact Jodi Rich at (910) 798-7629 or jorich@nhcgov.com.
Current Opportunities
Park Beautification at Ogden Park:  Dec 5th  8am-12pm
Join us for a Volunteer Work Day at Ogden Park!  Volunteers will work alongside parks staff to do some planting and parks beautification.  Tools will be provided- just bring your own gloves.
Park Beautification at Hugh MacRae Park:  Wednesdays 10am-12pm
Join us every Wednesday from 10am-12pm for landscaping and park beautification at Hugh MacRae Park.  Tools will be provided, but bring your own work gloves.  If you are interested, just show up at the maintenance shop at 10am on Wednesday. (the maintenance shop is the building located just inside the park entrance at Pine Grove Drive and near the tennis courts)

Trash Mob:  Saturday, Jan 13th  9-11am
Do you want to help keep New Hanover County beautiful? Then join us for our quarterly litter clean-ups on Harris Road. Clean-ups are scheduled for the 2nd Saturday of January, March, June and September from 9-11am.  Volunteers must be at least 16 years of age and can participate as an individual or group.  We will provide all the necessary supplies- bags, gloves, safety vests and pickers.  We will park and meet at Parkwood Park, 4827 Canetuck Rd, Wilmington 28411, at 8:45am.