Volunteer with New Hanover County Parks & Gardens and become a Parks Star!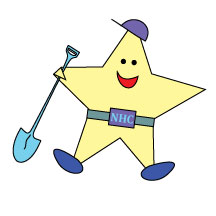 We are recruiting Parks Stars to help keep our parks beautiful, to help with special events and for special projects!  If you are interested in volunteering with us, fill out the form below or contact Jodi Rich at (910) 798-7629 or jorich@nhcgov.com.
Current Opportunities
Tree Planting:  Saturday, February 27th- 9-11am
The Parks Conservancy, in partnership with the Alliance for Cape Fear Trees, is seeking volunteers to help plant trees on three of New Hanover County's FEMA properties on February 27, 2021 at 9am.  The NC Urban Forest Council has graciously provided funds to plant a total of 48 trees between the three properties through their Legacy Tree Fund.  The planting will occur simultaneously at the three locations (two of the properties are located adjacent to each other) and volunteers will be split between the three:
250 Cherokee Trail, Wilmington, NC  28409 (Central New Hanover County)
133 Dunn Place Drive/129 Hearn Drive, Wilmington, NC  28411 (Northern New Hanover County)
*This program will comply with all COVID-19 restrictions, including social distancing and mandatory face coverings, and pre-registration is required.   Click here to register
Trash Mob: Saturday, March 13th- 9-10:30am
Do you want to help keep New Hanover County beautiful? Then join us for our quarterly litter clean-ups on Harris Road. Clean-ups are scheduled for the 2nd Saturday of January, March, June and September from 9-11am.  Volunteers must be at least 16 years of age and can participate as an individual or group.  We will provide all the necessary supplies- bags, gloves, safety vests and pickers.  We will park and meet at Parkwood Park, 4827 Canetuck Rd, Wilmington 28411, at 8:45am.
Cape Fear Museum Park
The Cape Fear Museum Park is looking for volunteers to work one or two mornings a week.  Days and times are flexible, but the tentative schedule is Mondays and Fridays 8-10am.  Responsibilities include planting, watering and weeding.  Training and guidance will be provided.  The Cape Fear Museum is heading up this opportunity, so please contact Joeli Banks at jbanks@nhcgov.com or 910-798-4361 for more information or to volunteer.
Trash Mob:  3rd Wednesday of each month- 10-11am
The Trash Mob gathers on the 3rd Wednesday of each month at rotating locations around New Hanover County to pick up trash and help keep our streets litter-free.  Contact Jodi Rich for locations.