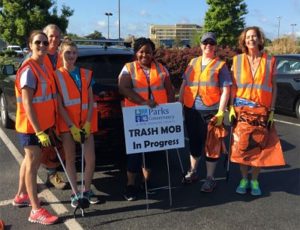 Ever heard of a Flash Mob?  Have you wanted to participate, but just can't dance? You're in luck…  The Parks Conservancy holds a "Trash Mob" twice a year – in the spring and fall – and all you have to do is show up and pick up trash.  This program began in April 2017 and its purpose is to help keep New Hanover County beautiful. We are always seeking volunteers to add to our list of "Mobsters."  Trash Mob volunteers must be at least 16 years of age and can sign up as an individual or group.  Email us for more information or to sign up.
View photos from April 2017
Fall 2017 Date TBD
The Trash Mob is a joint effort between the NHC Parks Conservancy and NHC Environmental Management.