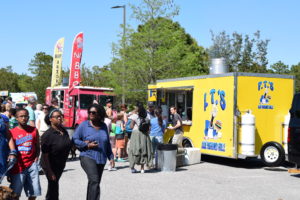 Thank you for your interest in the Food Truck Rodeo!  Participation in the event is competitive due to limited amount of space.  In order to provide the best experience for our event patrons, and to be fair to all food truck vendors, we have put the following application process into place:
All potential food trucks/vendors must complete the application form below by December 14, 2018.
Factors that are considered when choosing vendors include, but are not limited to:

Date of

completed

application
Previous participation in our events
Payment history from previous events (i.e. vendors who fail to make timely payments will result in denial of future participation)
Health Score/Sanitation Grade
Menu
Creating a balance in the variety of food offerings

Completed applications submitted by December 14th will be reviewed by the event committee to determine acceptance into the event.  All applicants will receive a notification email by

December 31, 2018

.

All applications may not be approved.  If you are not approved for the current Food Truck Rodeo, you may re-apply for the next event.  Denial for one event does not mean you cannot participate in future events.

The minimum donation to participate in the event is $100, and shall be paid in advance as a deposit.

If your application is approved, you will receive an email with instructions on how to pay your $100 deposit.  We must receive your $100 deposit by

January 15, 2019

in order to secure your space.  Failure to pay the deposit by the due date will result in the loss of your spot in the event.
To be considered for the Food Truck Rodeo, vendors must:
Agree to donate 10% of

gross

food & beverage sales for the day to the Parks Conservancy no later than two weeks following the event
Have wheels and be mobile (truck, trailer, food cart)
Have the proper permits
Click here for a printable copy of the Vendor Rules
If you meet the criteria above, please fill out the following form:
Vendor registration is not open at this time.  The application form will be available here when registration is open.